So.. this community seems to be just about dead, and I don't really feel like watching it anymore. Does anyone want it? Would anyone object if I deleted it?

Name: marence
Future intended: drebleloaw
When's the party happening: 10/14/07
Where: somewhere in Northeast Ohio
How did you meet: I had started volunteering at a charity haunted house, and I saw him across the makeup room. Our eyes met, thunder, lightning, insert your favorite "love at first sight" cliche here. During the run of the house, he was guiding the DJ from a local radio station who was doing a simulcast (and was an old friend of his) through the haunted house. He jumped over the rail of the room I was working in, swept me into his arms, and bit my neck in just the right place to make my knees buckle. He dropped me to the floor, and ducked out of the room, laughing maniacally. I lay on the floor, stunned and in love. Meanwhile, the DJ and a line of customers had stopped to watch the "act" and burst into applause. [After we set the date, we looked up the date of our first "encounter" - it was 10/14/94. Our wedding will be 14 years to the date that we met.]
How long have you been together: 12 years
Pretty Princess or Alterna-Bride: alterna-princess? Make that alterna-queen.
What's the thing you're most looking forward to about your wedding: Getting a new corset and cool matching rings. And officially being a life-partner.
Detail you're obsessing about that probably no one will give a crap about: The skirt to my dress, and how to get exactly what I want without having to spend a fortune on it.
It's official, we've set a date, and he's planning the wedding, in theory...
Current Mood:

optimistic

Current Music:

faint TV noise from the other room


Me and 2 of my best friends are going to do a wedding road trip in July and pick a location.....

We are trying to narrow our search down to 5 locations to look at.

*I am hoping for something with an outside feel (not actually outside, it's WAY TOO HOT in August in Vegas)
*I don't want anything too churchy - I am Jewish and FH is a non practicing Catholic (althoguh his family is still fairly Catholic)
*And I don't want to pay over $1000 for the ceremony itself (there are lots of places in Vegas that can accomodate me at this price)


Where would you recommend? Extra points if you have their web address.

X-posted to Vegasbrides, alternative_wed, diy_weddings, wp_outlaws, weddingplans and anywhere else I could think of
FH has decided that he wants to do a small wedding this August in Vegas - and then in a year or two do the big crazy celebration with 450 of our closest friends and relatives...
I have seven bridesmaids who are a vast range of sizes (0 - 24) and colors (redhead, brunette, blonde, pink, olive). Needless to say, there is not a single color or style that will flatter all of them. Have any of you ever had/seen bridesmaids who wore different styles and colors? I want them to all wear floor length dresses made of satin with some sort of straps/cap sleeves, but aside from that I am considering letting each choose her own color and style. Would this look weird?

EDIT: They would all be in some shade of pink. I forgot to clarify that.

x-posted


If something offensive is going on, please bring it to my attention.
Hey. Here's a thought: instead of deleting your post, how about you just leave it alone. If you don't want to hear the answer to your question, then don't post it. Seriously. Be a grownup.
Here's the dress on ebay...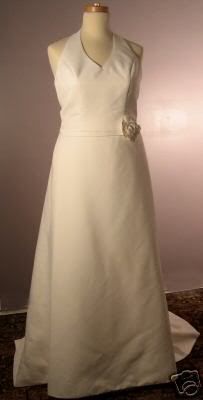 if interested leave a comment and I'll give more info!
Here's the dress that I bought for the reception instead...
http://www.bridalonlinestore.com/store/Paige.asp
what do you think?
I just wanted to let anyone who's interested know that I'm selling my david's bridal brand new, but discontinued, size 26W wedding dress on ebay. I loved the dress and planned on wearing it to my reception only, but I found a less formal reception dress that I just love.


My more important/military-oriented question: How long should we wait once he gets back to get married? He will not be back until his deployment is over, so he will be having to adjust to the civilian world after 15 months without a break from the war. Originally, we were waiting only 3 months, but I think that would be too soon after having been gone for 18 months.

My general question: I was originally going to have a very Christmas-y wedding. Should I keep those ideas and have Christmas in not winter? Sell the (thankfully) few things I have purchased? Wait a full year from the intended date, which might not be a bad idea given the length of the deployment? What I like best about my reception venue is how it looks at Christmas, so I am bummed about that, but at this point the odessey to the altar I just don't care anymore!



*Hopefully* these concerns will wind up being irrelevant and we will be able to carry on with our December 28 plans!

x-posted.
With just under 9 months left until our wedding, my fiance is very sure that his deployment is going to be extended by 6 months. The orders for his unit have not come down yet, but allegedly will before the end of the month. If they do, unless we have a groom-less wedding, we are not getting married for at least 18 months. We always knew this would be a possibilty, but we thought it would be 3 months, not 6, so he will also be unable to be present on our back up date.
Current Mood:

stressed


I'm really surprised at how inexpensive everything is. Okay, not inexpensive. That was a poor choice. What I mean is it's amazing that I'm staying either really close to budget if not totally under. Like the reception? Totally under. Flowers are under...photography is under because his parents are gifting us with a thousand dollars to help pay for our photos. We're not doing a limo. We talked about it and it seems silly to pay $400 for a limo when the church, hotel and reception hall are all about 3 minutes from each other. Curse you, Type A personality! Curse you and your inability to let me book a reception hall that's more than 5 minutes away from the church! So we're going to just rent a nice SUV. Our wedding party is really small anyway and I get 50% off because I work for Enterprise Rent-A-Car. My invites were really inexpensive, but still really pretty. Thank you, Ann's Bridal Bargains! I love that site! OMG!

All in all, things are going really well.

Just over seven months and counting. Yikes!!
I went to a flower consult at A Moment of Grace Florist in Warrenton, MO and I am in LOVE!! The florist was really nice and didn't try to upsell me or change my mind. She really helped me pick out some beautiful bouquets and arrangements for my wedding. The final dollar amount? $770! Can you believe it? That's not too shabby for wedding flowers. We're going to another consult in April...actually about a month from now. April is a tough month. The first weekend is Easter, the next is a staff meeting for a convention that I work for, the next is Anime STL (must get apartment clean before Josh gets here), and then FINALLY I have a free weeekend. So I'm going to go for another consult in April with River City Floral Source in St. Charles, MO.